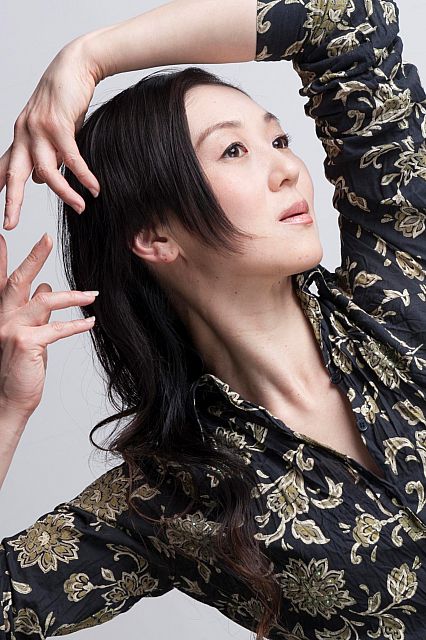 Photo ©Yutaka Mori
Motoko Hirayama
Contemporary Dancer/Choreographer
Associate Professor, University of Tsukuba – Graduate School of Comprehensive Human Sciences (Physical Education, Health, and Sport Sciences Program)
Motoko Hirayama is a highly acclaimed and active independent contemporary dancer and choreographer based in Japan. She is a recipient of many eminent awards including the "Nakagawa Einosuke Award" (2006), "Asahi Performing Arts Award" (2008), and "The Ministry of Education, Culture, Sports, Science and Technology's Art Encouragement Prize for New Artists" (2009).
Originally from Aichi Prefecture, Japan, Motoko started ballet lessons when she was 5 years old. She received both her undergraduate and graduate education at Tsukuba University's School of Health and Physical Education, and completed her Master's in "Coaching Studies". Motoko was introduced to modern dance and non-classical dance styles while an university student. After finishing her studies, Motoko danced with the famed riveting all-female Tokyo-based contemporary dance company "H Art Chaos" for 7 years.
In 1999, Motoko was awarded both the "Gold Medal" and the "Vaslav Nijinsky Award" in Modern Dance at the "3rd Japan International Ballet & Modern Dance Competition". Following in 2001, Motoko studied with the Belgian contemporary dance company "Ultima Vez" as a "Japanese Government Overseas Study Program for Artists Trainee". Since her return to Japan, Motoko has woven a successful career as an independent dancer and choreographer.
Motoko's recent activities include dancing the principal role as the "Chosen One" in Vaslav Nijinsky's "Le Sacre du Printemps" at the opening of the Hyogo Performing Arts Center in 2005, and staging her classic solo work "Revelation" on Bolshoi Ballet Prima Ballerina Svetlana Zakharova in 2006, making her the first Japanese choreographer to contribute work to the Bolshoi Ballet. Motoko has also been a regular contemporary dance artist, as both choreographer and dancer at the prestigious New National Theater, Tokyo (NNTT) since 2003. All four of her works at NNTT ("Chaconne", "Butterfly", "Life Casting", "Le Sacre du Pritemps") were reproduced as a result of profound popularity and demand.
Internationally, Motoko has set choreography on notable dancers from the American Ballet Theater, San Francisco Ballet, and Bolshoi Ballet, and has co-choreographed with famed Israeli choreographer Imbal Pinto.
Motoko's pursuits extend further far and wide, collaborating with musicians and visual artists, and choreographing for musicals. She was a cooperative choreographer for Japan's National Synchronized Swimming Team, and here choreographed a duet which brought home a Bronze Medal at the Beijing Olympics in 2008. In addition, Motoko collaborated as a dancer in experimental research projects, including a project exploring dance at zero gravity, and a project using motion capture to create an automatic composition system for dance choreography based on 3D computer graphics.
As a professor at the University of Tsukuba since 2002, Motoko lectures on dance and engages in fostering the next generation of dancers and youth. As a dance researcher, Motoko continues to explore means and methods for building body awareness to facilitate the process dancers employ to adapt to new dance styles. Motoko is also a master workshop teacher high in demand.
Motoko leads the Japanese dance scene, and continues to seek new ground, never leaving her adventurous, pioneering, and open-minded spirit behind.